Having good grammar books to enhance your English is always a smart idea, whether you are in school or college. These books make sure that ‌you understand the principles of sentence building, tenses, verbs, prepositions, and other terms and that you can construct correct sentences in English. We highly encourage students to focus on improving their grammar in the early years of studying, with the aid of some high-quality grammar books.
To assist you in choosing the best English grammar book online, we have compiled a list of some of the most renowned and reasonably priced English grammar books available in India.
| | |
| --- | --- |
| English Grammar And Usage | Buy Now |
| Applied English Grammar and Composition | Buy Now |
| English Grammar Workbook | Buy Now |
| High School English Grammar & Composition | Buy Now |
| Advanced English Grammar | Buy Now |
| English Grammar & Composition | Buy Now |
| Intermediate English Grammar | Buy Now |
| English Grammar in Use Book | Buy Now |
| My Book of Tenses | Buy Now |
| Oxford Modern English Grammar | Buy Now |
10 Best English Grammar Books
Here is a list of the 10 best English grammar books for every level that will help you write better:
English Grammar And Usage is a unique and interesting high school English grammar and composition book. This book will help you efficiently and easily understand and learn English by reading and speaking countless readymade rules in the book on every theme of grammar, without having to study English Grammar in-depth or use one's native language.
The English grammar basics book contains several sorts of complex sentences in the least complex forms, making it highly user-friendly and enjoyable for people of all age groups, particularly students, who want to grasp English accurately and fully.
Applied English Grammar and Composition is one of the best English grammar books, especially for understanding the basics. It has the same organization as English Grammar. The author has done an outstanding job in generating clear grammar elements that are understandable to the learner — no simple task, as most English language teachers are aware.
This is excellent value for money, and it is ‌the best grammar book on the market. This book covers this significant aspect of grammar in extensive detail. The author has also made the information in the book easy to understand via the use of several explanatory examples and activities.
The author has done an excellent job of teaching how to build the tenses and how to use them; all students, especially intermediate and advanced level students, will profit from this book and will ‌ overcome their phobia of grammar after only 3 to 4 weeks of rigorous study.
Students can feel a sense of accomplishment if they succeed in the activities. As the best book for English grammar, the instructor may feel somewhat unnecessary because the book does all the teachings for them. List of popular idioms (with examples), prepositions, and words that are frequently misinterpreted and misused. Covers all you need to know, from articles to sentences.
The key to developing your grammatical abilities is in practice, and that is what this workbook is all about. Continuous practice of speaking and writing abilities transfers into everyday scenarios, such as writing papers, making presentations, and communicating successfully in the job or school. This best book for English grammar provides hundreds of examples in English.
English Grammatical Workbook can help you build your grammar muscles. Simply select a topic that needs help–from grammar and pronouns to possessive and parallel structure–and take out your pencil. With just a few minutes of daily practice, you′ll be writing confidently and receiving the accolades you deserve at work or school.
The grammar english book and composition book provides dozens of worksheets and explanations. Explanations are like teaching techniques and classroom procedures. The book provides easy-to-follow tutorials as well as focused and modular content. English Grammar Workbook will teach you how to correctly structure sentences, achieve subject and verb agreement, and use tough punctuation symbols like commas, semicolons, and apostrophes without fear.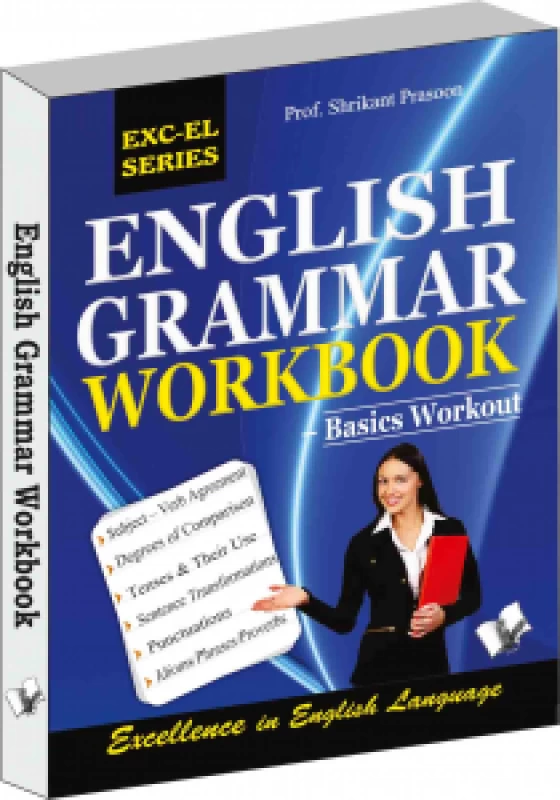 High School English Grammar & Composition is one of the good English grammar books in India. This book is part of the Wren and Martin series, and it gives a thorough study of grammar.
It comprises two halves, each with ‌84 chapters. The first section focuses on grammar, while the second focuses on composition.
Wren and Martin have addressed the basics of grammar in this book, such as creating sentences, employing adjectives as nouns, and so on. Readers also get tips on how to write an essay, memoirs, letters, and tales.
It includes a plethora of grammar and composition challenges that will allow readers to put their skills to the test from every perspective.
Advanced English Grammar is one of the best English grammar books for advanced students. It is a one-volume book that mixes source grammatical and practice tasks while explaining grammar principles and dealing with ‌contradicting rules. The author intended this book for advanced students and offers logical explanations. It focuses on grammar distinctions and grammatical structures, among other things.
The book also delves into over a hundred units of grammatical ideas, with each unit getting two pages. The left-hand page contains grammatical topics with succinct examples, while the right-hand page has practice activities. This approach has been used to guarantee that every point is succinct yet thorough. Martin Hewing created the book in such a manner that students may pick any subject they wish to practice.
Nowadays, practically all academic and recruiting tests, including SSC, Banking, CDS, State Level PSCs, and so on, have an English language part. Otherwise, being fluent in English is essential in today's rapidly modernizing world. English Grammar & Composition is ‌a complete guide to studying English Grammar and composition. Apart from competitive exams, it is an excellent high school English grammar and composition book for young students.
The book includes roughly 10,000 phrases, 7000 solved problems, 7000 key terms, and 550 Solved Assignments addressing the fundamental ideas of English Grammar and Structure. The book also contains advice and strategies for dealing with various sorts of questions. This book would be extremely beneficial to Hindi language students.
Intermediate English Grammar is the world's best English grammar book in India for intermediate students of English and covers all the grammar required at this grade. It is a guidebook with straightforward instructions and many training exercises that have helped thousands of people communicate in English. It is also well-respected by instructors and may be used as a supplement in the classroom.
The whole thing is astonishingly well put together. Each item follows the same format, and the instructions and information are simple to grasp. This best book for English grammar is geared toward intermediate students, although it also goes through the fundamentals. There are sections on pretty much everything you need to know to speak a language at a fair level, making it appropriate for advanced students as well.
The first choice for adept learners is Raymond Murphy's English Grammar in Use, which takes care of all your grammar needs. This answer book contains comprehensive explanations and practice problems that have assisted millions of individuals all around the world in improving their English. It is ideal for self-study and students can use it as a supplement book in schools.
Apart from modules and associated exercises, there are several useful appendices containing resource charts of regular and irregular verbs, definitions, and more comparisons between tenses. Following that comes a collection of additional exercises that mix various structures. These are especially important for advanced students who are familiar with the various forms but need to know which are used in specific situations.
My Book of Tenses is an excellent English grammar basics book, especially for beginners. My Book of Tenses intends to assist students in understanding the fundamentals of how to apply accurate grammar while grasping all tenses' features.
It is a comprehensive book for school children, replete with extensive examples and simple explanations. There are also appealing drawings, interactive tasks for practice, and entertaining activities to make learning fun. The solutions after the book allow students to double-check their efforts and identify where they got it wrong.
It has several advantages. Lovely images complement comprehensive chapters with vivid examples and the book also includes answer sheets for all tasks.
Oxford Modern English Grammar is a fresh, comprehensive, and thorough handbook on English grammar from Oxford. This book, authored by a top specialist in the area, addresses both British and American English and employs actual spoken and written examples. Its extensive coverage covers the most fundamental to the most difficult areas of grammar, all of which are presented authoritatively. The book is organized into four sections for ease of use.
This source of detailed information is essential for anyone interested in the English language. It is also a must-have for students, and anyone looking for a comprehensive introduction to English grammar and how it is applied.
Conclusion:
If you want to have a long and prosperous career in any industry, especially writing, ‌buy one of the books on this list.
Grammar may or may not be a necessary component of a superb piece of writing. It's occasionally beneficial to actively deviate from the norm and create something unique. But, if you're going to defy the rules, first understand them.
We hope the grammar English book and composition titles mentioned in this brief evaluation are informative.